Motor News
---
Win a Custom Bike to Cure the Kids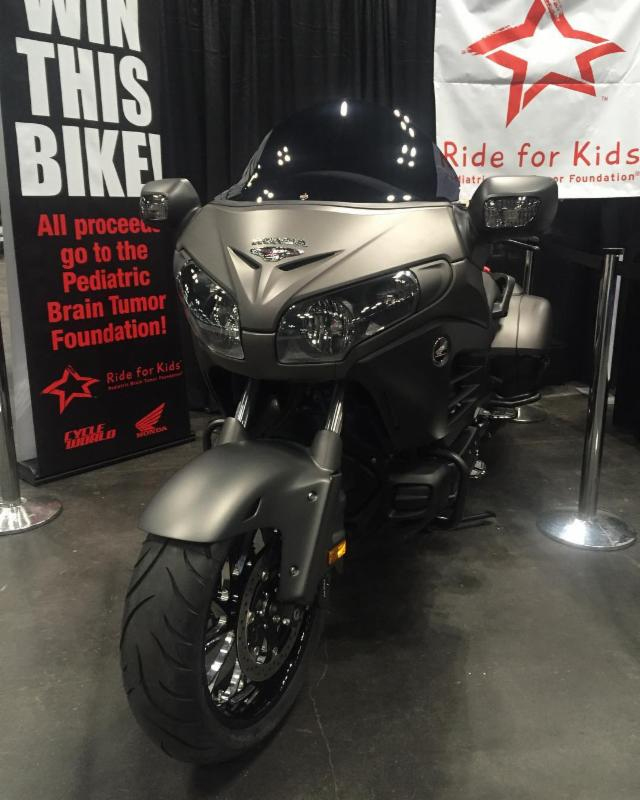 WIN THIS KUSTOMIZED HONDA F6B!
Twenty-eight thousand people in the US are living with the diagnosis of a pediatric brain tumor. The
Ride for Kids
program, a national series of motorcycle rides that supports the work of the Pediatric Brain Tumor Foundation, made it their mission to eliminate the challenges of childhood brain tumors by funding medical research and family support programs. Brian Klock of Klock Werks said he felt humbled to be able to help kids and families, and also honored to be paired with "two of the most iconic names in the industry,
American Honda
and
Cycle World
."
"When I was told 13 kids are diagnosed every day, I thought, what can we do to help?" Brian Klock, President and Visionary of Klock Werks said. "Kids are the future of our industry, and of our world, so when you get a chance to help out, you should."
And that's exactly what Klock set out to do with the benchmark standard for touring bikes. The new Ride for Kids/Cycle World project bike raffle features a Honda F6B donated by American Honda and customized by
Klock Werks
. It was on display at the New York International Motorcycle Show December 11th-13th.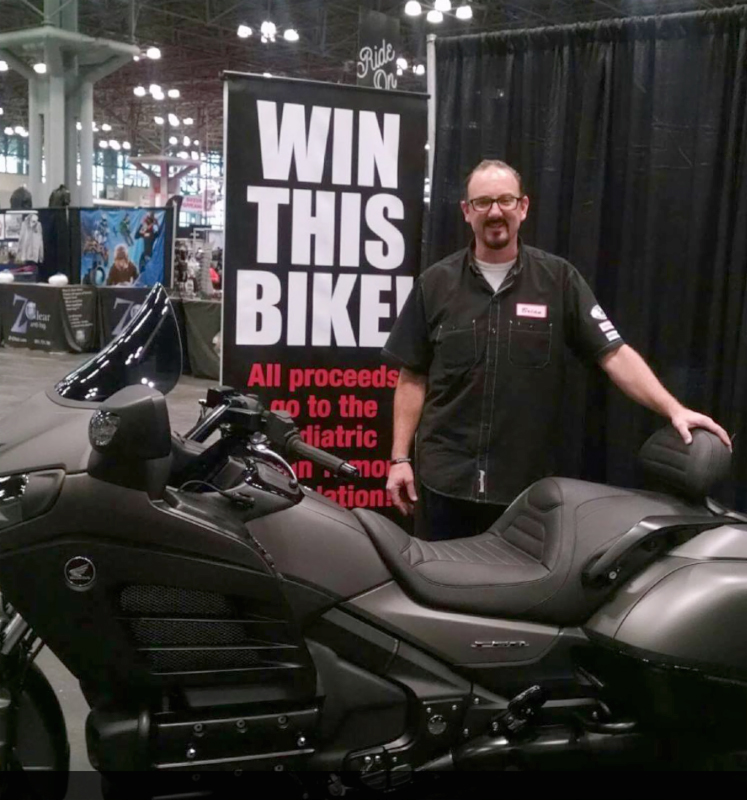 "The F6B is a new platform for Honda, designed to bring in a different crowd. It has everything that riders love about a Gold Wing, but is a sportier version of the touring standard."
Klock said.
"If you would have told me we could design a windshield to help a Gold Wing handle even better than it already does, I would have doubted it, but when we tested our Flare™ Windshield on it, it did just that! We are really excited to add Honda fitments to the available line of our original Flare™ Windshields, and are proud to be able to showcase our Flare™ along with other custom touches on this project."
Klock donated his team's design and labor time for the F6B project, as well as the original Klock Werks Flare™ Windshield. Other donated parts and accessories include front 180/55-18 and rear tires from Avon Tyres, raked 180 tree kit from Hannigan Motorsports, drink holder, saddlebag trim, floorboards and rear reflector from Kuryakyn, Cerrakote flat black exhaust by Liquid Designz, Mustang seat and backrest pad, Eclipse series "Temper" front wheel from RC Components, SoCal Moto Gear's HID headlights and smoked mirror turn signals, Monster Oval exhaust system from Vance and Hines, and custom badges and license plate frame, courtesy of XYZ Machine.
"It was great to get our hands on this bike," Klock said. "We gave the F6B an even thicker look and more attitude with a 180 front tire, along with the rest of these subtle, but custom, touches."
The winner of this decked-out Honda F6B will be drawn in May 2016.
Tickets
are available one for $5 or five for $20 at the AIMExpo, the International Motorcycle Shows, the Honda tent in Daytona, the MotoGP in Austin, and The Quail Gathering. They can also be purchased at
www.curethekids.org/projectbike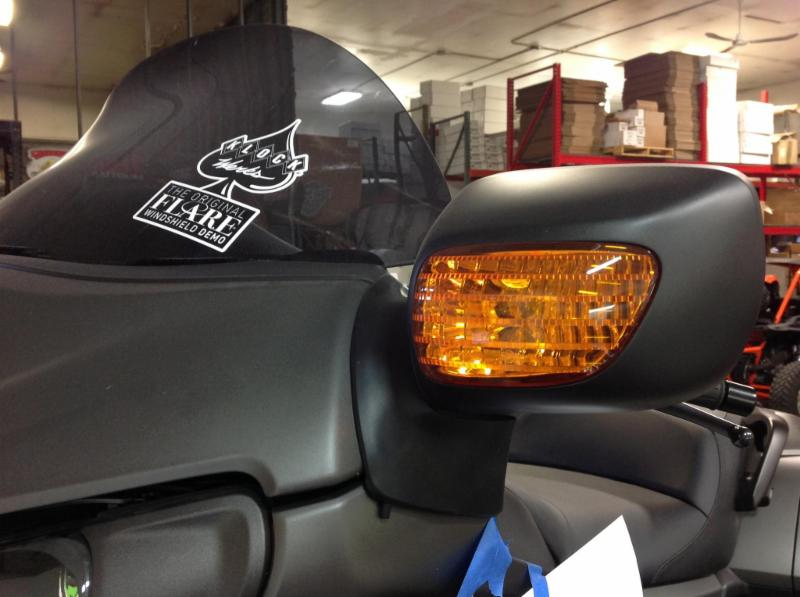 About Ride for Kids
Ride for Kids is a national series of motorcycle charity events that raise awareness and funds for the Pediatric Brain Tumor Foundation, the world's largest nonprofit funder of research into one of the deadliest forms of childhood cancer. The
Ride for Kids
program also funds free educational resources and college scholarships for brain tumor survivors. More than 28,000 children and teens in the United States are living with the diagnosis of a brain tumor, and nearly 13 more cases are identified each day. American Honda is the presenting sponsor of Ride for Kids. Other national supporters include GEICO and Cycle World magazine. To ride with us to cure the kids, call 800-253-6530 or go to www.rideforkids.org.
____________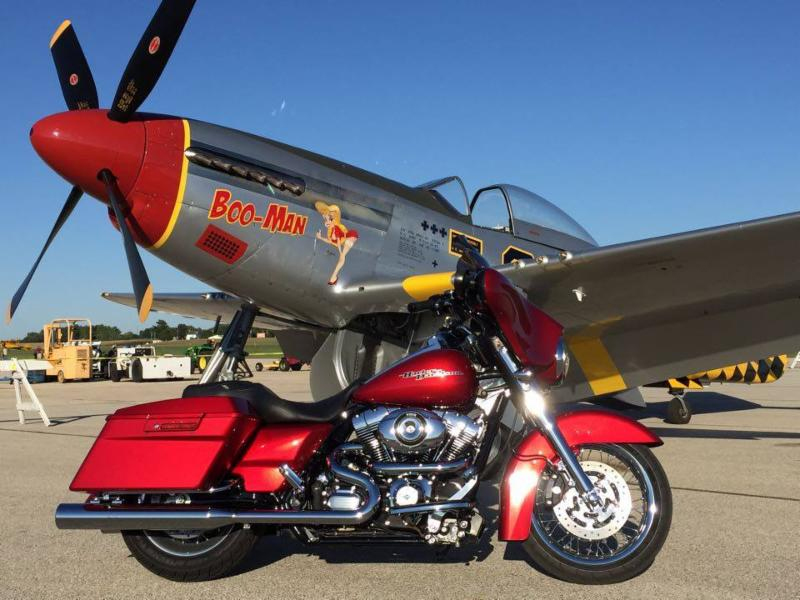 RIDER REVIEW: SCOTT HEDDEN
Scott Hedden, of central Illinois, has been a licensed aircraft mechanic for 27 years. Besides metal birds, he also enjoys working on motorcycles. Hedden, 51, and his daughter, 26, share a love of riding. He has a 2012 Street Glide with small engine modifications, custom tank decals to replicate stock emblems, and all non-chromed hardware has been chromed or replaced with stainless steel. They also have a 2005 Road King and a 2008 Kawasaki KX450-F. Hedden "got klocked" with the original
Flare™ Windshield
and
Klock Werks Exhaust.
"I chose Klock Werks because it's just like the name states - it works," Hedden said. "It's a custom look, a nice fit, and great service."