Motor News
---
KLOCK WERKS INVESTS IN DYNA/FXR FANS WITH 19" STEEL FENDERS
Riders are buying new Harley-Davidson motorcycles to kustomize and build their own classic look, and Klock Werks is excited to offer high quality products with simple bolt-on installation that anyone can manage right in their home garage. The Klock Krew is ready to ship pre-drilled 19" Front Fenders for Dyna, FXR, and Sportsters, as well as V-Rods and many other metric applications with minimal modifications. The revival of a trend that sat on the sidelines while baggers and choppers took the stage for years is here, and your bike deserves the best of the best!
Designed to fit 90/90-19 to 100/90-19 front tire applications, these fenders are perfect for the customer that wants to differentiate his bike from the crowd. Say goodbye to plastic and fiberglass; now you can have stamped 14 gauge steel e-coated fenders that you know will last. Not only will you enjoy the highest quality on the market, but because Klock Werks' deep stamping technology ensures a smooth and flawless finish, bodywork is severely minimized saving you cash at the painter.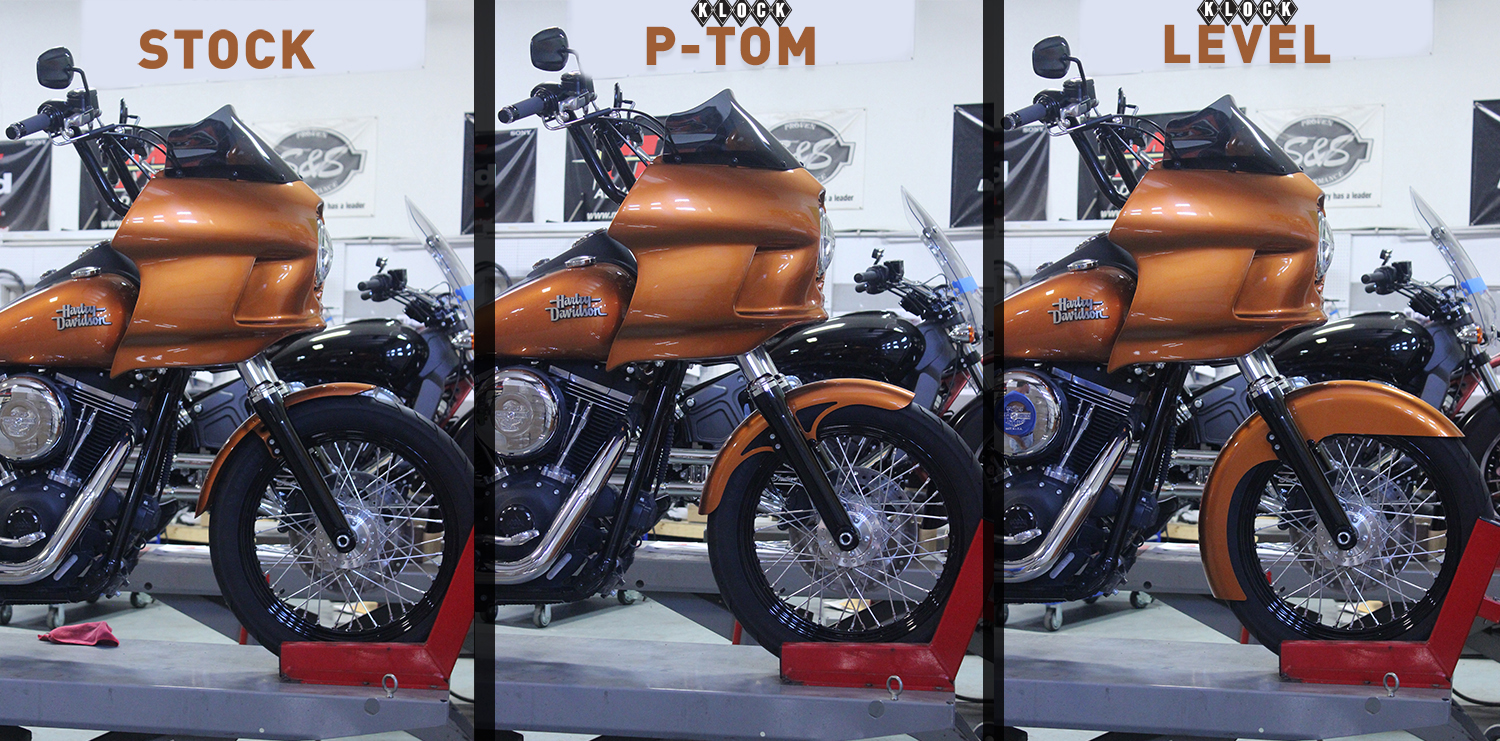 "When we received the fender from Klock Werks, we were impressed with its smooth finish. There were no ugly, welded seams, no dings, and the E-coat on the fender looked almost as good as stock satin-black paint. Even our painter was impressed with the fender; that's probably why he charged us so little to paint it (The Bagger Blog)."
Brad Smith, owner and painter of The Factory Match out of Tea, SD has made a business out of supplying Harley-Davidson owners with factory-matched Klock Werks fenders that are ready to bolt on.
"I encourage my customers to use Klock Werks' fenders. They have set the standard for quality sheet metal in the industry for the past decade," Smith said.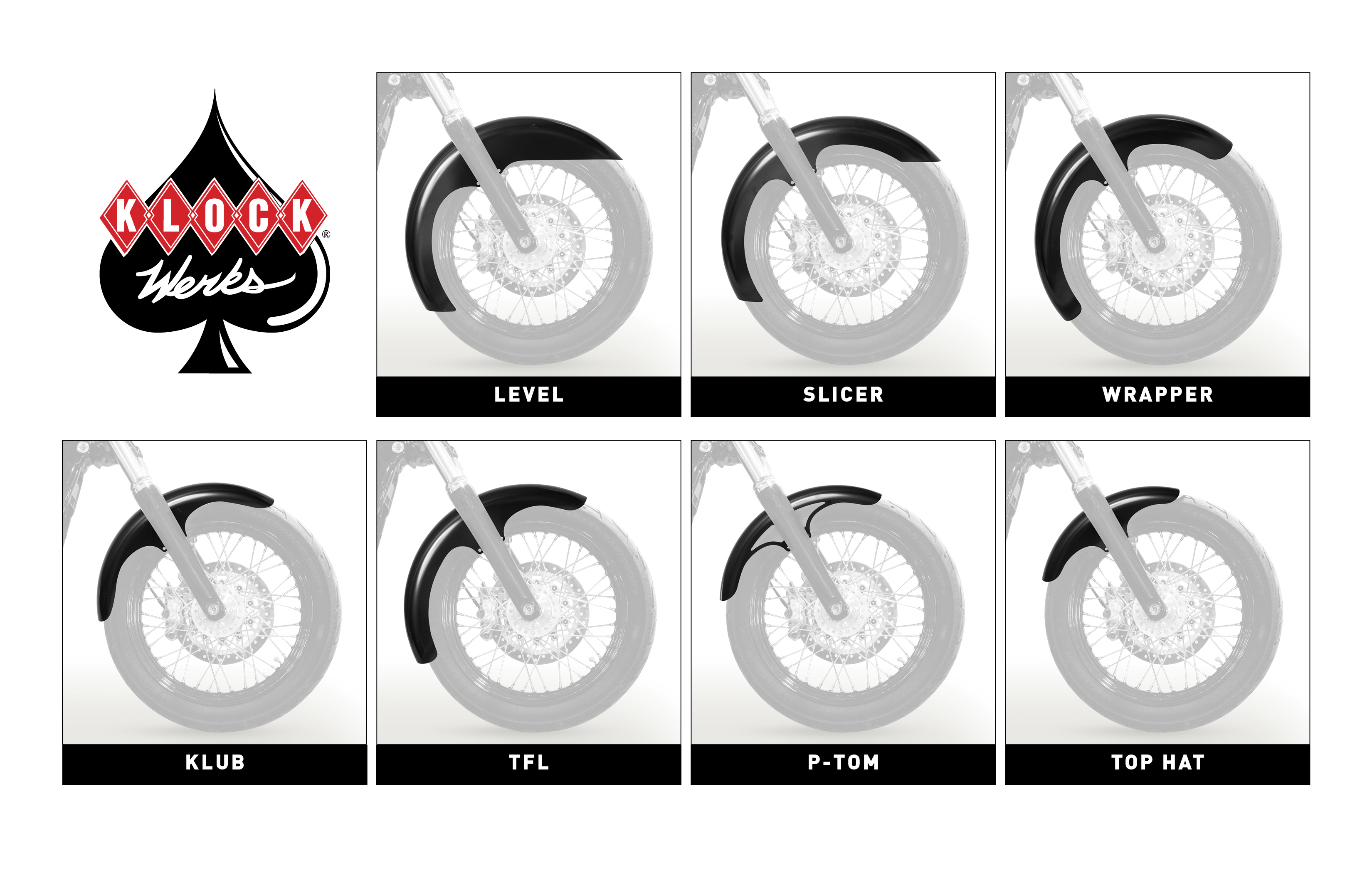 Klock Werks has taken the guesswork out of the process and very little prep is needed to accomplish your finished, flawless look. With seven profiles to choose from, you can achieve a sporty or touring look easily. Klock Werks has led the market in OEM aftermarket fenders, and after a decade, the team is proud to announce the same quality and innovation is now available for 19" wheel customers. Set yourself apart with a kustom upgrade from a trusted company that has always and will always stand behind the parts they produce and ship out!
About Klock Werks
Located in Mitchell, South Dakota, Klock Werks has grown from humble beginnings to a nationally and internationally recognized Brand. Achieving status as "Air Management Experts", Klock Werks credits this to the success of the original, patented, Flare™ Windshield. Also supplying fenders, handlebars, and other motorcycle parts, Klock Werks proudly leads the industry through innovation in design and quality of materials and fitment. Team Klock Werks has been successful for years designing parts, creating custom motorcycles, and setting records on the Bonneville Salt Flats. You will find motorcycles, family, and faith at the core of Klock Werks, along with a commitment to caring for the needs of enthusiasts around the world who enjoy their products.
For more information please Contact Amber Hiles at amber@getklocked.com.
About The Factory Match
TheFactoryMatch is a division of Smitty's Custom Painting, LLC out of Tea, SD. TheFactoryMatch.com is now offering industry trusted parts and products painted to match your 1983 and newer Harley- comes with everything you need to bolt on and shipped to your door. No fitment issues! Made in the U.S.A!