Motor News
---
PREP FOR THE LONG HAUL WITH THE PATENTED FLARE™ FOR HONDA
There is a lot to consider when traveling long-distance on a motorcycle. Not only can riding posture affect your comfort over long distance, but so does your bike's ability to deflect air properly. Have you ever seen a fairing and windshield after 10,000 miles of riding? It's under there somewhere beneath the bug splatter. Riders know to pack their comforts, test some seat pads, give the ride a tune up, and be prepared for weather, but it's also important to consider how air flow will affect the body over long periods of time of getting blasted in the wind. Not to mention having a bug the size of a quarter splatter on your helmet isn't ideal.
Klock Werks Flare™ Windshields have proven time and time again that they are the superior choice for comfort, stability, added downforce, and style. Riders around the globe have praised the Flare™ for it's unmatched air management, and riders said they can wear sunglasses, hats, smoke cigars, and even bugs are deflected.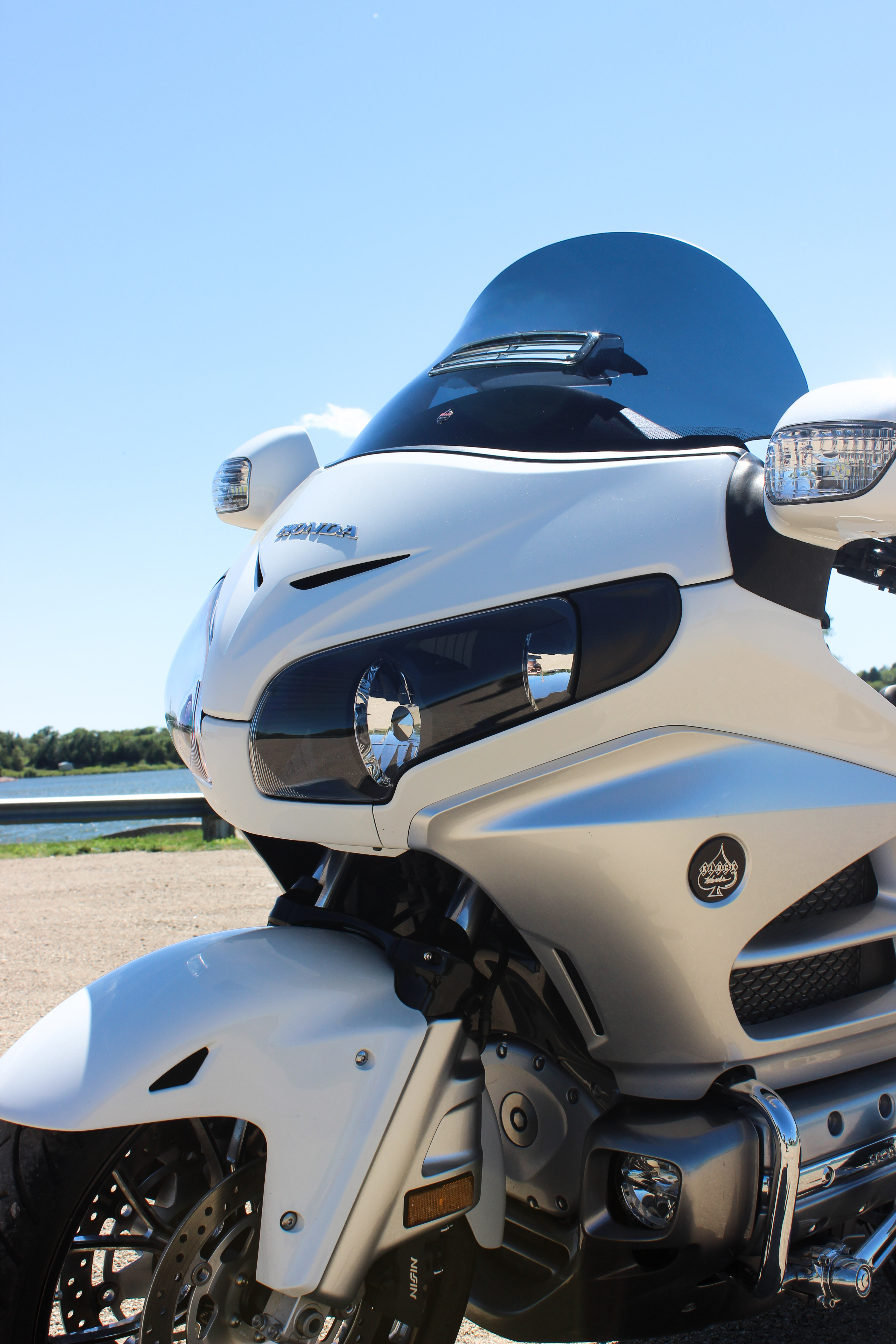 "I've ridden over 500,000 miles on my Gold Wing, and the Flare™ is quite possibly the best addition I've made to my motorcycle, giving me the greatest results for the least amount of money. Not only do I find my ride more enjoyable and "bobblehead" free, it looks fantastic on my motorcycle. And it works GREAT in the rain!" states Joe Sparrow, #wanderingsparrow, Gold Wing rider who has been putting the Flare™ to the ultimate riding test for several seasons.
"The shield is amazing on my F6B. I can hear my stereo and wear a ball cap (forward) at any speed (tested up to 95mph)," said Kevin Klein. "Thank you for a great product. Worth every penny!"
Klock Werks patented Flare™ Windshield design features "hips" at the sides that re-route the wind away from you while adding downforce to the front-end of the motorcycle to improve stability, vs. riding with the stock windshield. The flip at the top of the Flare™ redirects air back as clean, less turbulent air for rider and passenger. Based on customer feedback, Klock Werks has now expanded its Honda Flare™ Windshield line to include the new taller vented series, sporty F6B options, and its original Honda Gold Wing Flare™.
"A stock shield simply pushes air. So any air that escapes around it is choppy, turbulent air, that can make your helmet shake or your glasses fly up, for example. Often a rider will think getting a bigger or taller windshield will solve the issues. The answer is how the air is directed, and the shape of our Flare™ re-directs the air," explains Brian Klock. "Many times, a rider doesn't realize how uncomfortable it is, until they try a Flare™ Windshield. Then they wonder how they ever rode without one!"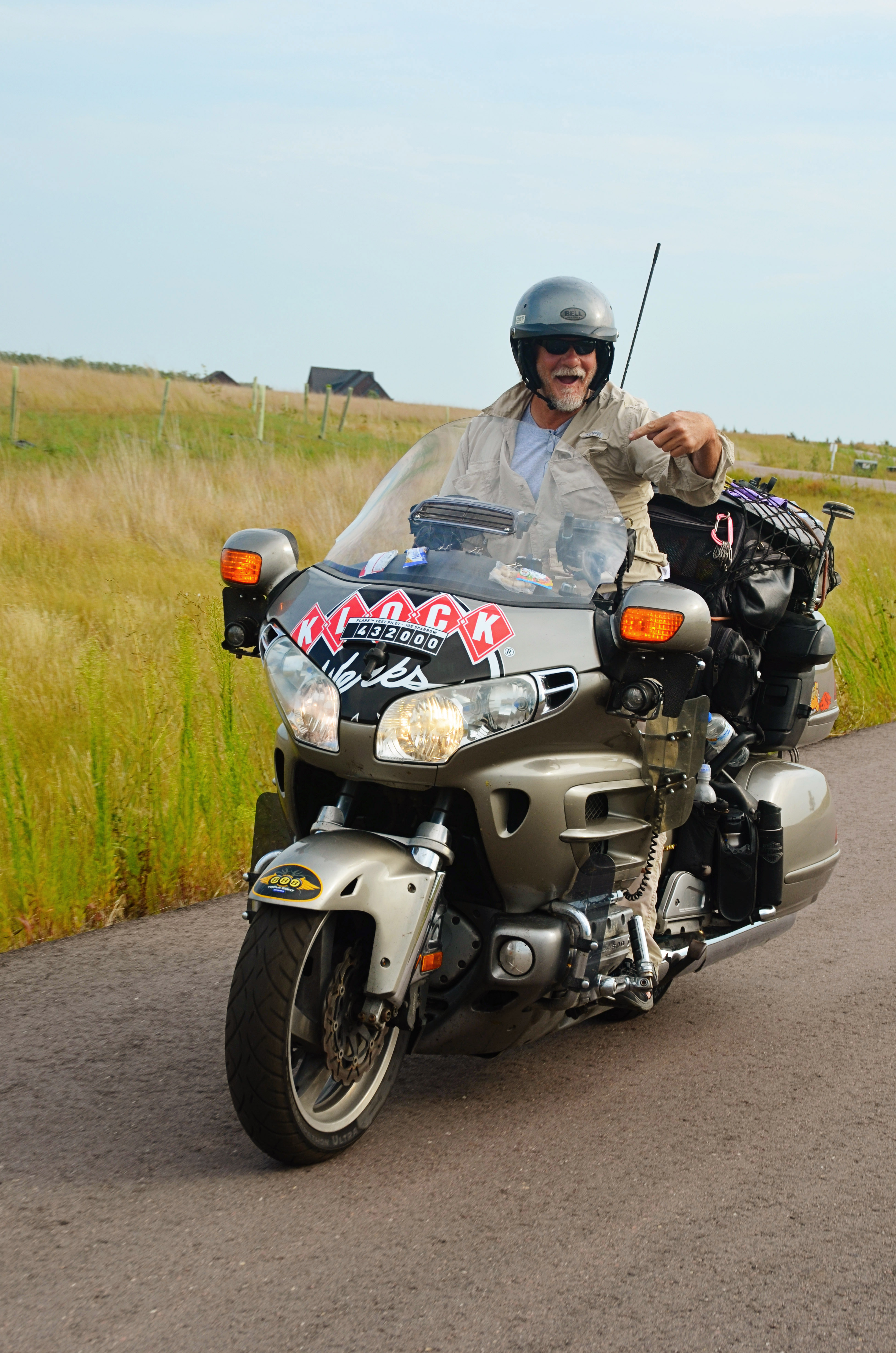 Klock Werks Flare™ Windshield for Honda is made from hard-coated polycarbonate material for lasting durability. The Flare™ is easy to install on Gold Wing and F6B bikes using factory mounting hardware, and still utilizes the stock adjustability of the Gold Wing windshield. Available in different tint, height, and vented or non-vented options, Klock Werks is sure you will find a Flare™ for Honda that suits your specific needs.
"We are pleased to get our "Try It Before You Buy It" Test Ride program launched at WingDing 2016 in Billings, MT August 31st through September 3rd and in Honda dealerships around the country. Now more Honda riders than ever before can "Understand the Difference" a Flare™ Windshield makes. We encourage dealers to contact us, and riders to ask their dealers for a free demo ride!
About Klock Werks
Located in Mitchell, South Dakota, Klock Werks has grown from humble beginnings to a nationally and internationally recognized Brand. Achieving status as "Air Management Experts", Klock Werks credits this to the success of the original, patented, Flare™ Windshield. Also supplying fenders, handlebars, and other motorcycle parts, Klock Werks proudly leads the industry through innovation in design and quality of materials and fitment. Team Klock Werks has been successful for years designing parts, creating custom motorcycles, and setting records on the Bonneville Salt Flats. You will find motorcycles, family, and faith at the core of Klock Werks, along with a commitment to caring for the needs of enthusiasts around the world who enjoy their products.
For more information please Contact Amber Hiles at amber@getklocked.com.