Motor News
---
Klock Werks Designs Jack Daniels 150th Anniversary Indian Chief Vintage Motorcycle
KLOCK WERKS LEADS DESIGN OF JACK DANIEL'S-BRANDED INDIAN CHIEF VINTAGE 150 YEAR TRIBUTE BIKE
Indian Motorcycle®, America's first motorcycle company, announced it has joined forces with the Jack Daniel Distillery to create the Limited Edition Jack Daniel's Indian® Chief® Vintage motorcycle. The partnership brings together two of America's most iconic brands that share a mutual commitment to independence, originality, and American craftsmanship that dates back more than a century. The collaboration commemorates the 150th Anniversary of the Jack Daniel Distillery, which was registered in 1866.
The Limited Edition Jack Daniel's Indian Chief Vintage will be produced in very limited quantities, taking the iconic Indian Chief Vintage platform to a whole new level with an array of genuine Indian Motorcycle accessories and custom accessories, as well as Jack Daniel's-inspired custom paint and logos, badging, leather saddle, and saddlebags. The bike's front fender is also inscribed with the names of the seven Master Distillers who have overseen the Jack Daniel's distilling process over its 150-year history. Final customization work was designed and completed by Brian Klock and his inspired team at Klock Werks in Mitchell, S.D.
"This is the first time Jack Daniels has branded a motor vehicle and to be involved in that process is a huge honor! Jack Daniel's David Stang has become one of our great friends over the last few years through a few projects we've completed together.
When we got the call from David and his team to be the designer of choice for this historic bike, it was humbling, and exciting!
Our relationship with Indian stems back to being an advisory board member before Polaris launched the new Indian, to Laura being a part of the Indian unveil at Sturgis 2012, and then Karlee designing one of the first custom Indian Scouts. I am ecstatic for our team to represent these iconic American brands, and to be part of another historic moment," said Brian Klock, President of Klock Werks. "We chose long time friends Tex McDorman and his family at
TexEfx
to paint this original that the rest of the 150 will be modeled after."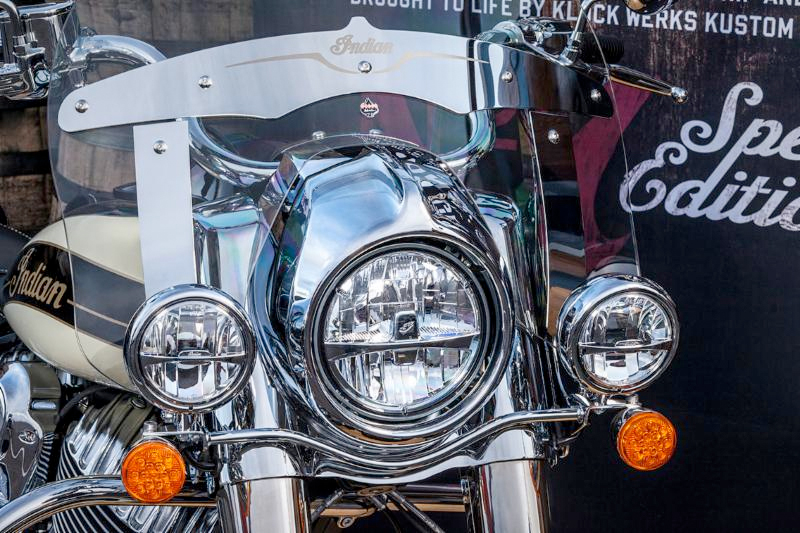 The 2016 Limited Edition Jack Daniel's Indian Chief Vintage will be on display January 23-31 at the
Barrett-Jackson Scottsdale
Collector Car Auction. It will also make an appearance at a series of events throughout 2016 including
Daytona Bike Week
, taking place March 4-13.
Ultimately, this first-in-the-series display bike will be auctioned at the Barrett-Jackson Auction in Las Vegas, which takes place October 6-8. All monies raised from the charity auction will be donated to support "Operation Ride Home," a partnership between the Jack Daniel Distillery and the Armed Services YMCA that provides funding and travel assistance to help junior-enlisted military personnel spend time with their families during the holiday season.
"This one-of-a-kind motorcycle is the perfect pairing of these two classic American brands, and while they look great together, we've inscribed this unique collector's edition masterpiece with our 'Bottles and Throttles Don't Mix' mantra to remind all our friends that drinking and riding are meant to be
enjoyed separately," said Dave Stang, Director of Events & Sponsorships for Jack Daniel's. "We'd like to thank our friends at Indian Motorcycle, Klock Werks, and TexEfx for their help on this project and their support for Operation Ride Home."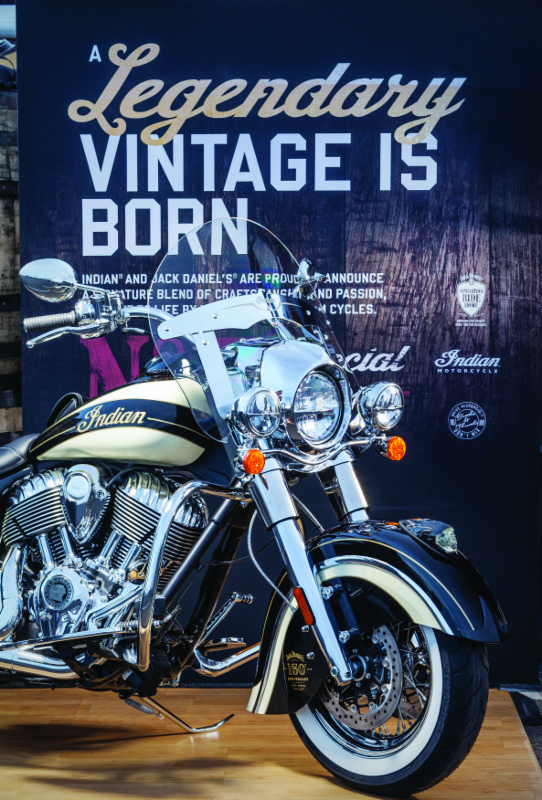 Are you checking out the new Flare™ Windshield you see on the the #1 of 150 Jack Daniel's Branded Vintage? Well, it's coming soon! Watch for it at www.kustombaggers.com and check out all of the other Klock Werks Brand parts we have available for Indian Motorcycles!