Motor News
---
TIMELESS DESIGN: A 16 Month Calendar Tribute to Special Machines in Klock Werks 20 Year History!
Friday December 2nd 2016
It all "officially" began in 1997. Over the last 20 years, some small-town folks in rural South Dakota have deeply impacted the powersports industry - leading and inspiring trends, creating timeless style, producing high-quality parts, and improving the ride for bikers all over the world. To begin the celebration of 20 years in business, Team Klock Werks dug into the vault and through stacks photos and floppy disks to put together a special 16 Month Calendar!
This calendar is a tribute to some of the special machines in Klock Werks history. These vehicles stood out, started and lead trends, and signified key turning points for the company and the industry. On the pages, you will see the diversity that is Klock Werks and the TIMELESS DESIGN that has afforded this company 20 years of survival in an ever-changing, fast-paced world.
"Reflecting on all of the moments and amazing people we have met along the way is a joy. Klock Werks has made great strides in innovation particularly when it comes to air management and bike stability!", stated Brian Klock, Founder of Klock Werks. "The accomplishments, awards, and records set along the way are humbling, and we truly thank each and every person who stood beside us. These relationships have been invaluable, but we can't forget about the bikes!"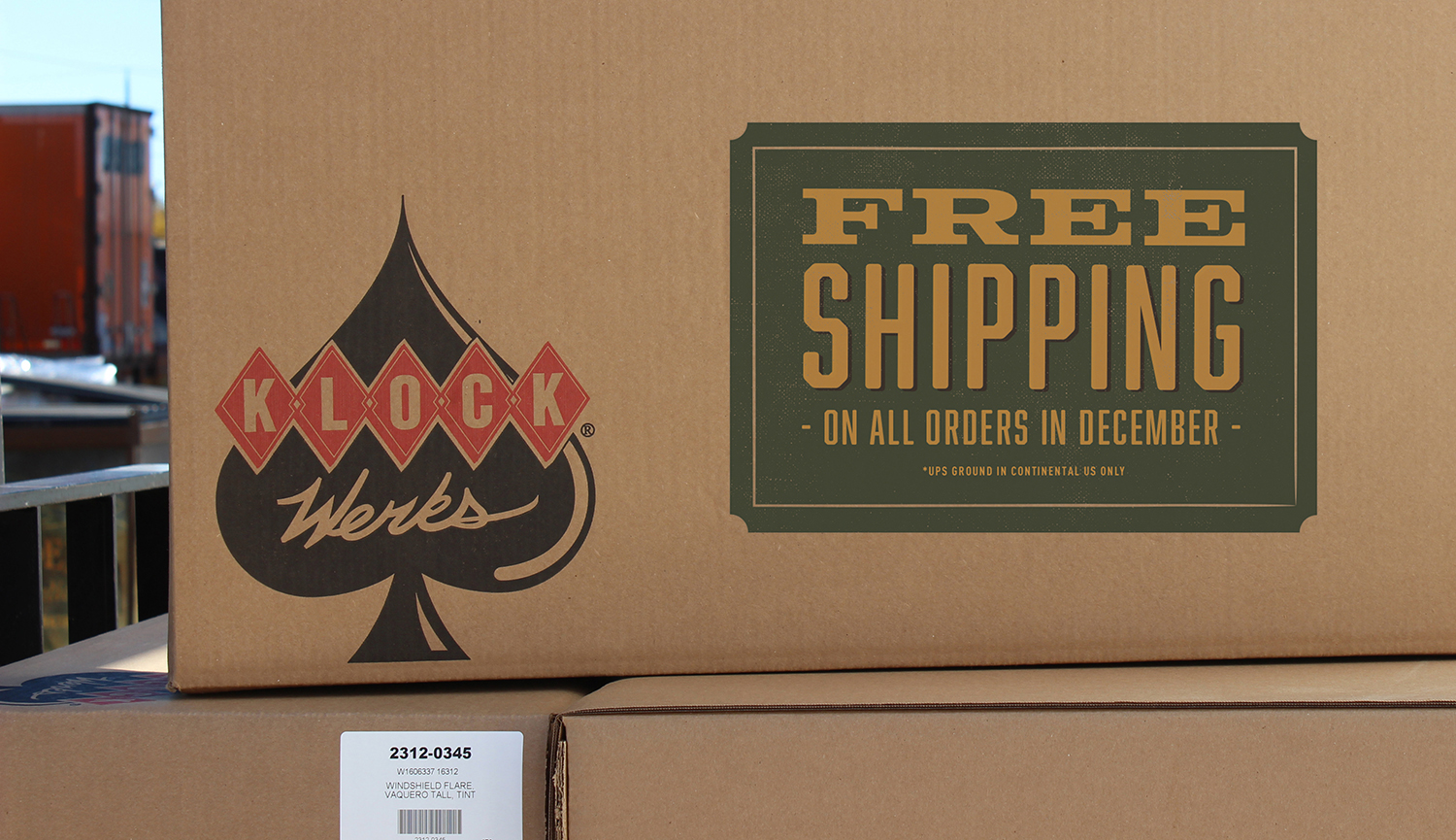 Fenders were part of Klock Werks foundation at inception, and they have stood the test of time. The styles and profiles Klock Werks created back then are still available as bolt-on, stamped steel options for the newest models today. It's with pride that the team can look back and see that Klock Werks has remained true to the brand and intention all these years — with clean lines, high quality, lasting style, and a commitment to absolute customer service excellence.
"We are honored to pay tribute to those who have gone before us and those who have helped us get where we are today. This past 20 years have been a journey — with thousands of miles driven, hundreds of bikes built, millions of smiles, and motorcycle camaraderie that has forever changed and enhanced our lives," Dan Cheeseman, Klock Werks first employee, and now the company's COO shared as he reflected.
"Our marketing department had so much fun with this project! And the sharing of Klock Werks History will continue throughout 2017. Each month we've featured a special bike, and provided a summary of the story behind it. Along the edge of the pages we've called out the names of even MORE bikes from the vault," said Laura Klock, Klock Werks VP and Marketing Director. "Every month we will add more information to www.getklocked.com so we can continue to share the rest of the story, photos, and details throughout the year! We hope you enjoy looking back as much as we have."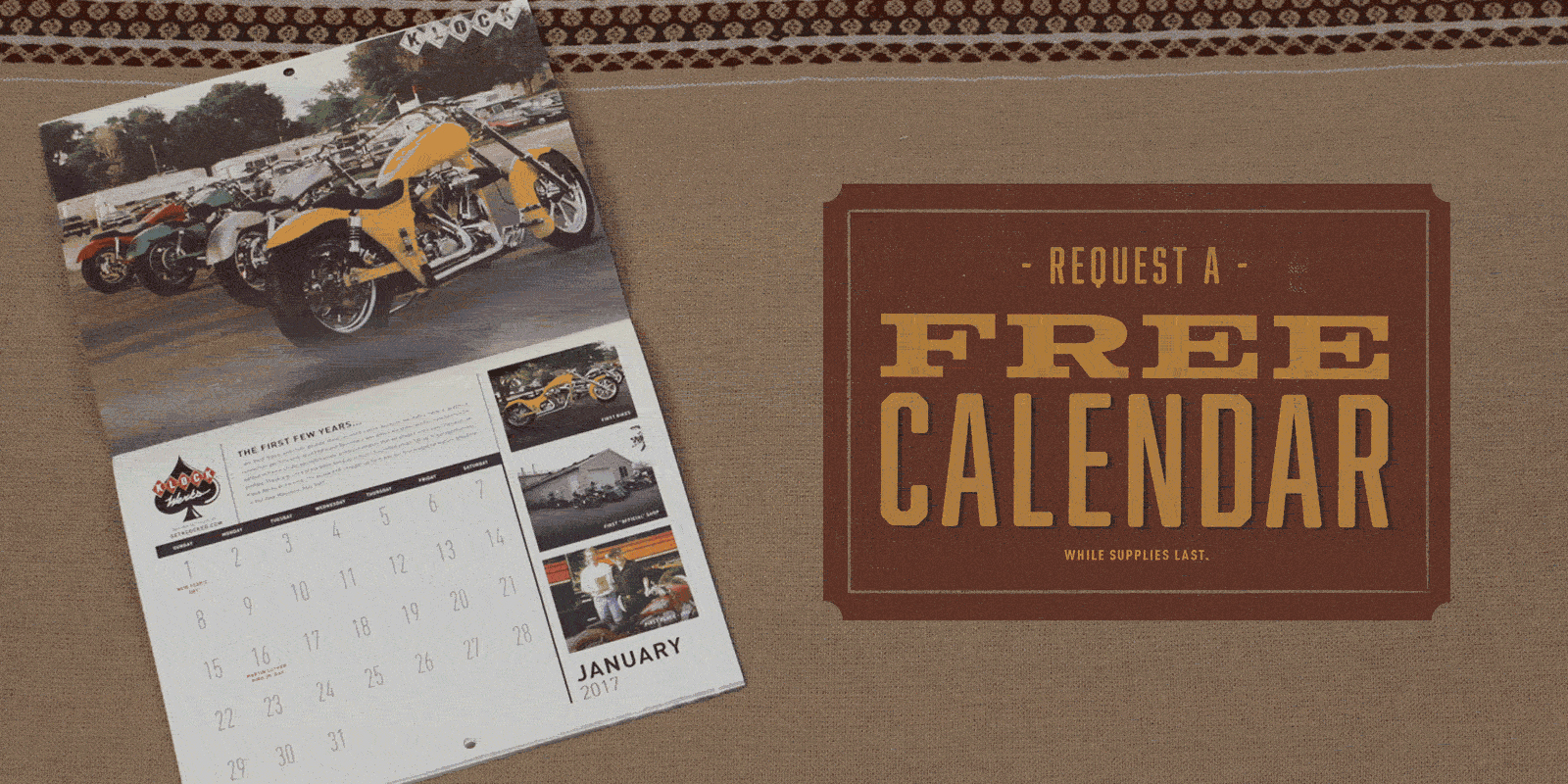 Throughout December 2016, every order shipped out of the Klock Werks shop in Mitchell, South Dakota, will have this Limited Edition 20th Anniversary Calendar added to the box, FREE. Klock Werks is also offering FREE ground shipping throughout December on all orders. To share our celebration with as many people as possible, anyone can sign up online to receive one FREE copy of the calendar by visiting www.getklocked.com and filling out the form. AND, if you want to share this gift with MORE people on your Christmas list, you can purchase 5 for just $20!
We think you will be impressed with the high quality printing, the vintage leather-like feel of the cover, the bike photos from years gone by, and learning more about Klock Werks and the special vehicles that have influenced trends today with their TIMELESS DESIGN. Thank you for being a part of the journey of our past, and we look forward to working with you all in the future! Merry Christmas!
About Klock Werks
Located in Mitchell, South Dakota, Klock Werks has grown from humble beginnings to a globally recognized Brand. Achieving status as "Air Management Experts", Klock Werks credits this to the success of the original, patented, Flare™ Windshield. Also supplying fenders, handlebars, and other motorcycle parts, Klock Werks proudly leads the industry through innovation in design and quality of materials and fitment. Team Klock Werks has been successful for years designing parts, creating custom motorcycles, and setting records on the Bonneville Salt Flats. You will find motorcycles, family, and faith at the core of Klock Werks, along with a commitment to caring for the needs of enthusiasts around the world who enjoy their products.
For more information please Contact Amber Hiles at amber@getklocked.com.