Motor News
---
Sturgis Bound? Take a Pit Stop and Get Klocked
There are just over 860,000 residents in South Dakota, and last year, during the 75th Annual Sturgis Motorcycle Rally, the number of people in the state nearly doubled. The rally brought in close to 750,000 people, setting a record. Mitchell, home of Klock Werks, is 300 miles east of Sturgis, but being right off of Interstate 90, the streets of Mitchell are just as flooded with revved engines! And this year, bikers will have yet another milestone to attend before the rally, the 10th Annual Pre-Sturgis Party at Klock Werks, and everyone is invited!
Eleven years ago, Laura joined Team Klock Werks to help frieds with what was then a small motorcycle shop. The guys were building bikes into the wee hours of the morning, and while Laura left the garage to run some errands, she noticed bikers all over town, at hotels, in parking lots, just hanging out. They had stopped for the night to take a break from the highway.
"When I got back to the shop, I told Brian (Klock) there were bikers everywhere, and we should invite them to all hang out here," Laura Klock said.
Busy with deadline, Brian declined, but Laura was inspired to bring everyone together. Always family oriented, Laura made the hang-out happen the following year in 2006, and the Pre-Sturgis Party was born!
"We created the Pre-Sturgis Party and set if for the Thursday before the Official Sturgis Rally weekend, and it has been that way ever since," Laura said.
The team has welcomed friends, family, and bikers from all over the world. They have un-veiled bike builds like the Jack Daniel's Barrel Bike and most recently Helping With Horsepower project bikes from Mitchell's Abbott House, "Second Chances". The party buzzes with book and art signings, massages by Integrated Massage Solutions, food trucks, live entertainment, and of course, Culver's Frozen Custard cart!
The Pre-Sturgis Party has also been a hub for celebrities like Carey Hart, Ricky Carmichael, Jessie Rooke, Jesse Combs, Donnie Smith, Brian Fuller, and even Astronaut, Curt Brown. "Cornelius", the Corn Palace mascot, makes a special guest stop along with admins from the Mitchell Chamber and Convention and Visitor's Bureau. In short, the party has a lot to offer, the great-est of all being cammaraderie, friendship, and an excitement for the ride and rally!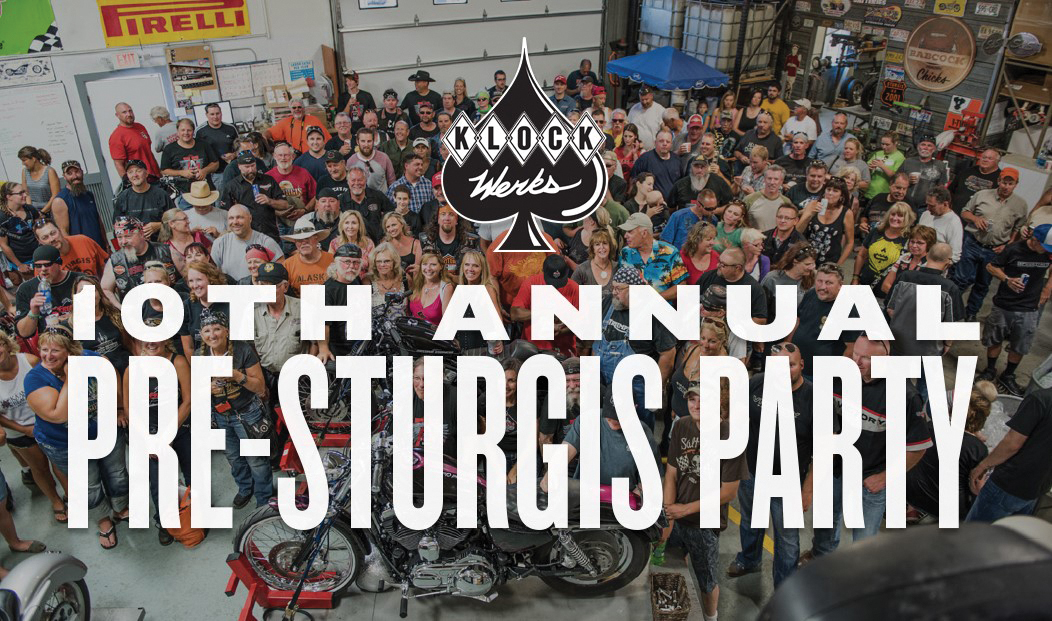 "The best part of the party is the people," Makel Juarez, International Sales Manager said "- getting to see old friends you might only see during Sturgis, meeting new people, seeing new bike builds that people bring by (bikes that are debuting at the rally) – all of those things are super cool. Plus food and entertainment, smiles and laughs – how can you beat that?"
For some, the party is a game-changer. You never know who you might meet on the road or during a random stop. Sometimes the destination isn't really the best part of the journey. It's truly the little things that really count, and you never know who you might run into that changes your life or the way you live it.
Weston Frank's first Pre-Sturgis Party was just that. After entertaining the crowd, outlaw country-music singer and guitarist Frank said he will never forget that day.
"That was my first encounter with 'The Klock's'… first encounter of what Klock Werks is about," Frank said. "It was nuts! Famous people just randomly jumped up on stage with me to take pictures, and all those people packed into one small area. It made me a fan! Three months later I was hired to work here at Klock Werks!"
This year, the theme for the party is "Get Klocked" as Klock Werks recently released a new campaign inspired by the brand new website that was launched on June 29th, 2016. Klock Werks has been busy with some new parts and products, and it will be the first time that a completely revamped line of apparel will be available.
Don't miss out on what is sure to be the party of the year! Map your ride to Klock Werks on Thursday, August 4th!!
About Klock Werks
Located in Mitchell, South Dakota, Klock Werks has grown from humble beginnings to a nationally and internationally recognized Brand. Achieving status as "Air Management Experts", Klock Werks credits this to the success of the original, patented, Flare™ Windshield. Also supplying fenders, handlebars, and other motorcycle parts, Klock Werks proudly leads the industry through innovation in design and quality of materials and fitment. Team Klock Werks has been successful for years designing parts, creating custom motorcycles, and setting records on the Bonneville Salt Flats. You will find motorcycles, family, and faith at the core of Klock Werks, along with a commitment to caring for the needs of enthusiasts around the world who enjoy their products.